FAQ
How do I find out about events?  They will be posted up here in advance, advertised on Facebook and mentioned in the weekly email.  Facebook events will contain the fullest account and will be updated most frequently.
Are events free? With the occasional exception, events are either free or will be available for £5. It will be made clear which it is on the event information.
Are places limited?  Usually, yes.  Even if it's the kind of event you can just turn up for, it's helpful to know who to expect so you still need to RSVP.
How do I go about reserving a spot? Start by clicking 'attending' on Facebook to help me judge the numbers.  If you are sure you want a spot, email cornellbrownpennuk@gmail.com with the event name in the subject–if you have got a spot then you will receive a confirmation email.  If you don't hear back, feel free to remind me.  Please don't reserve through a private message on Facebook, it makes it hard to keep track.
How do I pay for a ticket? You can buy tickets at your orientation session and subsequently between 2 and 5 pm at George's Café on Queen Square where I will host a weekly drop in session.  There's tea and cake in it for you!
Can I get a ticket for a non Cornell-Brown-Penn friend? These tickets are subsidized by your university for their own students so ordinarily, no, this isn't allowed.  If there are extra tickets or an event is specifically designed to encourage you to bring friends from elsewhere, I'll let you know.
What if I have to cancel? For free events, just let me know that you won't be coming.  For events which have a cost attached, it's your responsibility to find a new buyer for your ticket (though if there's a waiting list then I'll point you in the right direction).
What happens if I'm going to be late/ can't find you/ need last minute information? You will usually be told where to meet and given a time which allows for a little bit of flexibility.  Keep an eye on Facebook where I will post up a selfie of where to find me and offer any last minute advice or information.  Message me if you think you're going to be very late and need to know where to find us!
Calendar
*Events are in London unless otherwise indicated
Autumn Term 2017
SEPTEMBER 2017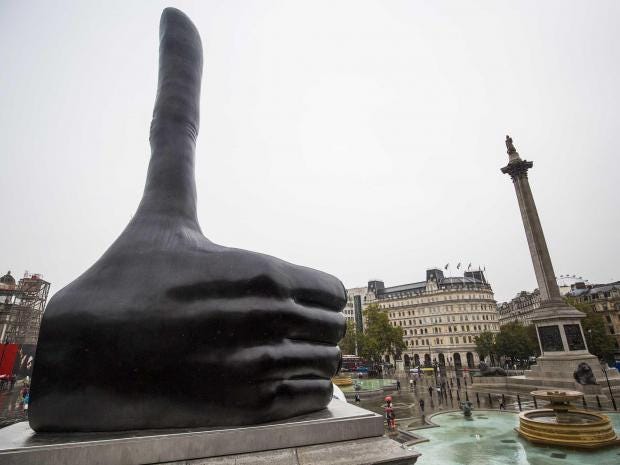 Thursday 7th September,  3pm, Early arrivals in London meet in Leicester Square
Edinburgh orientation weekend
Friday 8th September, 7pm, EDINBURGH Fish and Chips, meet at Greyfriar's Bobby Memorial 
Saturday 9th September,
EDINBURGH, 11am  History Walk meet at Greyfriar's Bobby Memorial
EDINBURGH 4pm,  Tea for Brown students at Black Medicine Coffee
Friday 15th September, EDINBURGH, 3pm   Orientation/ lunch at Mum's Great Comfort Food
Monday 18th September, 3pm, Tea and cake at George's Café, Queen Square, London
Sunday 24th September, 3pm  London Orientation, Syracuse in London 
Monday 25th September,  3pm  Tea and cake/ alternative Orientation
7pm,  King Lear at The Globe Theatre (tickets available at Orientation)
Wednesday 27th September, 6.30pm,  Study Abroad Workshop at Syracuse in London
OCTOBER 2017
Thursday 5th October, 7pm, 'First Thursdays' art walk, Whitechapel Gallery
Thursday 12th September, 3pm, Cambridge Orientation [TBC]
Friday 13th October, 3pm, Oxford Orientation
Thursday 19th October, 7pm, Diwali Celebrations
Thursday 27th October, 3pm, Quirky Museums tour
Tuesday 31st October, Halloween Celebrations (TBC)
NOVEMBER 2017
Wednesday 1st- Thursday 2nd November, Bianca visits Team Scotland
Friday 3rd November, London Food Tour
Monday 6th November, Comedy Night (TBC)
Sunday 11th November, Remembrance Sunday service
Monday 13th November, Classical music concert (TBC)
Thursday 23rd November, Evensong at Westminster Abbey
Friday 24th November, Christmas Market meet up
Saturday 25th November, THANKSGIVING MEAL
DECEMBER 2017
Monday 4th December- Ice skating at The Natural History Museum
Thursday 7th December- Bookshop Crawl
Monday 11th December–Farewell get together in London
***No events between departure of Spring students in May/ June and arrival of Fall students in September***
Spring Term 2017
MAY 2017
Monday 8th May, Five Rhythms dance class
Friday 19th May, Freud Museum
Tuesday 23rd May, Farewell picnic
APRIL 2017
Saturday 1st April, On the Rocks arts festival, St Andrews, Scotland
Sunday 2nd April, Oxford-Cambridge Boat Race, London
Wednesday 5th April, Sir John Soanes Museum
Wednesday 12th April, Community Engagement with North London Cares
Wednesday 19th April, Royal Philharmonic Orchestra, Southbank Centre
MARCH 2017
Thursday 2nd March, Evensong at Westminster Abbey
Monday 6th March, Cheese Tasting at Gordon's Wine Bar
Thursday 16th March, Skygarden
Monday 20th March, CIE Life After London: Global Opportunities Fair
Friday 24th March, Highgate Cemetery tour
Tuesday 28th March, Refugee Workshop at Syracuse in London
FEBRUARY 2017
Wednesday 1st February, Tea and cake George's Cafe
Thursday 2nd February, White Devil, Sam Wanamaker Playhouse. £5
Wednesday 8th February, Tea and cake George's Cafe
Thursday 9th February, First Thursdays–open house event at East London art galleries
Tuesday 14th February, London Philharmonic Orchestra accompany classic romantic film Brief Encounter
Friday 17th February, Alternative London
Wednesday 22nd February, Tea and cake
Sunday 26th February, Austentatious–comedy improv night
Tuesday 28th February: Pancake day!
JANUARY 2017
Thursday 6th January: London from St Paul's Cathedral to Big Ben Walk, meet by St Paul's Underground Station, 11am. FREE.
Saturday 7th January, 1pm: Meet by the Fourth Plinth (David Shrigley's 'Really Good') in Trafalgar Square.  I'll tell you a bit about Trafalgar Square and then we can explore nearby galleries.
Saturday 14th January, 10am: EDINBURGH Edinburgh Walk: Dark and Light, meet at The Scott Monument near Waverley train station
1pm, EDINBURGH Mum's Comfort Food, 4A Forrest Rd, Edinburgh EH1 2QN.  Food, new friends and words of wisdom!
Sunday 15th January, 3-5pm, London Orientation, Syracuse in London, 48-51 Old Gloucester Street, London, WC1N 3AE
Wednesday 18th January, 2-5pm, London Tea and Cake Catch up at George's Café, Queen Square FREE
Thursday 19th January, 3pm, CAMBRIDGE  Fitzbillies, 51 – 52 Trumpington St, Cambridge CB2 1RG FREE
Friday 20th January, 3pm, OXFORD The Rose, 51 High Street FREE
Wednesday 25th January, 2-5pm, London Tea and Cake Catch up at George's Café, Queen Square FREE
Wednesday 25th January, 7pm, Making the Most of Study Abroad: An Intercultural Communication Workshop. FREE (limited places).
Friday 27th January, 7pm, Burns Night in London, Hammersmith Town Hall, W6 9JU. £10.
Sunday 29th January, 10am, Chinese New Year Parade, Shaftsbury Avenue (TBC)
DECEMBER 2016
Thursday 8th December: 5 Rhythms, St Peters Church, Vauxhall, London, 7pm. £5
Saturday 10th December: Benjamin Britten Christmas Carol recital at St Paul's Cathedral, 4.30pm. FREE
Wednesday 15th December: C-B-P Christmas Knees Up at The Harrison, 7pm. Buy your own drinks, Christmas crackers provided!
NOVEMBER 2016
Wednesday 3rd November: First Thursdays Art Bus Tour, Whitechapel Gallery, 6.45pm. FREE
Saturday 5th November: Bonfire Night (various locations)  FREE
Wednesday 9th November: Processing the Election Results and Ticket Sales, George's, Queen's Square (nr. Syracuse in London), 3pm  FREE
Thursday 10th- Saturday 12th November: Cornell Club Event, Opportunities in a Time of Disruption [Cornell only]  FREE
Friday 11th November: Remembrance Day.  Don't forget the 2 minutes silence at 11am. FREE
Sunday 13th November: Remembrance Sunday.  For details of the yearly Remembrance Service, held at the Cenotaph, see here.  FREE
Wednesday 16th November: Study Abroad and Your Future: a workshop, George's, Queen's Square (nr. Syracuse in London), 5pm  FREE
Wednesday 23rd November: London students ice skating at Natural History Museum. £5
Thursday 24th November: Thanksgiving (students encouraged to make own arrangments)
Saturday 26th November AM: Hampstead Heath walk. FREE
Saturday 26th November 6.30pm: Thanksgiving dinner at East India Club.  FREE. £25 for guests.
Sunday 27th November: Trip to Columbia Flower Market  FREE
Wednesday 30th November: C-B-P Students in Let the Wild Ones Run FREE
For more detailed information, please see Facebook or email cornellbrownpennuk@gmail.com.