First things first–British films, please, though we use the word movies too.
You'll discover that British people have seen a lot of American films, but the reverse isn't usually true. No Mary Poppins doesn't count–it's a Disney film which makes it American.  Harry Potter? Okay, fair enough, but you'll have to count the whole series as one.  There's so much more out there that you've been missing!  Here are some first steps to start exploring…
If you're a romantic…
You probably want to watch a film directed by Richard Curtis, king of the Brit-rom-com. The humour is gentle, the shots of British locales look great and his diffident English heroes are forever falling in love with lively American women: what's not to like?  For my money, Four Weddings and a Funeral is the funniest, and not just because the 90s fashions look really bizarre now. Did you know that Richard Curtis films always feature someone stupid named Bernard?  Apparently he's settling the score with some guy who stole his girlfriend in university days whose name was, you've guessed it, Bernard. Fact.  If you're going to be living in London, try Sliding Doors, featuring Gwyneth Paltrow with a pretty flawless English accent.  Which reminds me, Bridget Jones!  Another one with an American playing British.  Imitation is the highest form of flattery you know.
You might also want to touch on a different, often romantic, genre: the costume drama.  Whether you're a literature student whose interested in adaptations or you just want to see how anyone manages to kiss a man while wearing a bonnet, you're spoiled for choice. Maybe start with Persuasion, set mostly in the beautiful regency city of Bath.
But if you prefer horror…
Then it's your lucky day!  We, the British, have a dark side and its produced some pretty top notch cinema.  For a classic, dig out the original Wicker Man–the remake doesn't do it justice.  For something a little bit different, The Descent is a horror film with an all female cast and is mostly about potholing.  I know, unlikely right?  But it's amazing.  Zombie films don't come scarier than 28 Days Later and its sequel 28 Weeks Later.
If you prefer your zombies served with a smile, Shaun of the Dead is for you. Some very British humour as well as the profound insight that most British people, if attacked by a hoard of the undead, would probably run to the pub for shelter.
If it's comedy you're after…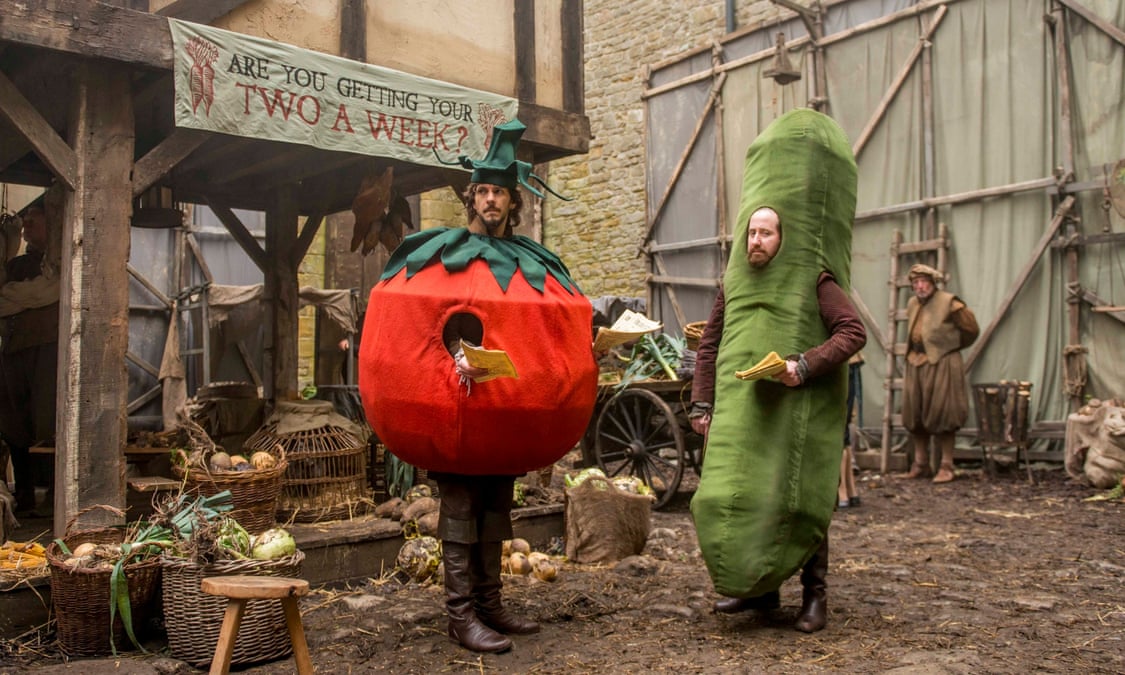 Then the chances are that you're already a Monty Python fan–perhaps you're just waiting for the right prompt to reel off your perfect rendition of The Knights Who Say Ni.
But if this means nothing to you, you better check out what all the fuss is about: The Life of Brian is probably the most critically acclaimed, but for the sheer delight of its surreal barrage on the sense with bits of history geekiness in the mix, I'd go for Holy Grail every time. If you like Monty Python, check out the historical/comic Blackadder series (TV strictly speaking but sometimes on Netflix) or the recent film by the Horrible Histories crew, Bill.  There are some great British comedy TV shows, and of course comedians a-plenty, but perhaps that's for another post.
If you'd like to learn something about Britain…
Then, bravo! That's the spirit.  We seem to do pretty well on films about troubled geniuses–you could check out The Imitation Game to find out more about code-breaker Alan Turing or The Theory of Everything for the inspiring life of Stephen Hawking. There have been some cracking films about turning points in political movements–Suffragette is very stirring but if you watch one film, make it Pride.  It looks at a group of LGBT activists in the 1980s who end up standing shoulder to shoulder with coal miners in Wales–it's so funny and uplifting, and a true story too!
Not all British films which talk about politics and struggle are uplifting, as you'd imagine, but there are a lot of social realist films which take a humane look at life in some of the more overlooked corners of Britain.  Fishtank from director Andrea Arnold is very powerful and anything by Shane Meadows–who comes from Nottingham in the middle of England–is well worth a lot.  If grittiness is your cup of tea, so to speak, you might want to have a rifle through the back catalogue of director Danny Boyle. Trainspotting is his classic.
I'd better stop there, but I've only just scratched the surface.  I haven't mentioned the joy of watching lots of explosions and a man in a tux make lots of bad puns–that is, James Bond films! I haven't explained why the kids film Paddington carries such an important political message!  And just imagine how many more great British films will come out while you're here in the UK!  Impossible to see them all.  So, no more words from me, just this image from the animated film The Illusionist, set in Edinburgh.
Happy watching!